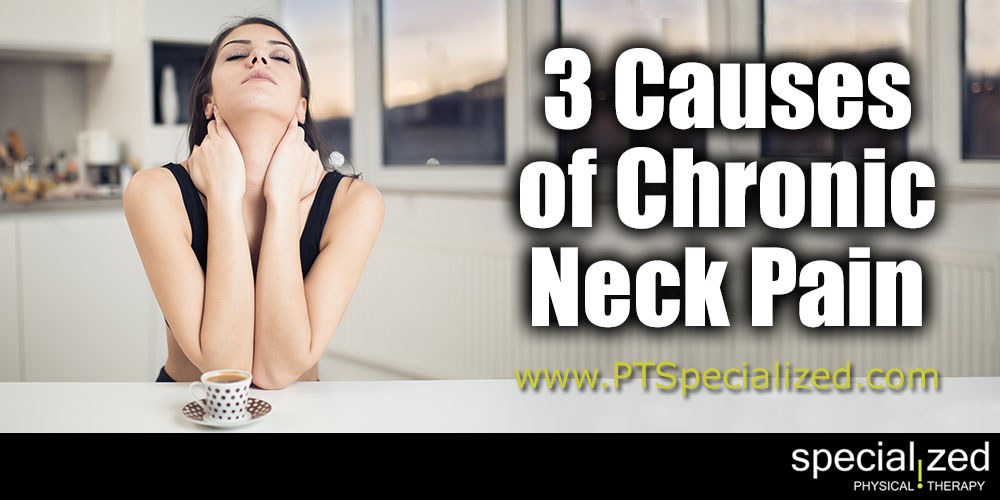 Your neck holds up the most important part of your body, your head and brain.  It is flexible and a great support, but it's rather vulnerable to injury and chronic neck pain.  Your "pain in the neck" may be something other than a joke and pain in your neck is nothing to laugh about. Chronic pain is pain that lasts longer than six months.  Chronic neck pain has several causes.  Generally, strains or injuries should heal in much less time than that.  If they don't you need to see a doctor or physical therapist.
Muscle strain
One cause of chronic neck pain is a muscle strain.  Muscle strain can happen when you spend hours hunched over a computer or smart phone, gritting your teeth too much or sitting or sleeping oddly in bed.
Deterioration
The joints in your neck, and there are a lot of them, can wear down over time and as we age.  Osteoarthritis causes the cartilage between the vertebrae to deteriorate.  That causes bone spurs that affect joint motion and cause pain.
Nerves being compressed can cause chronic pain as well.  Bone spurs and disc issues can compress or aggravate the nerves causing pain.
Accident
Injuring your neck during sports or in a car accident can cause chronic neck pain as well.  This is especially true in rear-end auto collisions which often result in whiplash injury.  This is when your head jerks backward and then forward, straining the soft tissues of the neck.
Lastly, illnesses like meningitis, cancer or rheumatoid arthritis can cause neck pain.  If this becomes chronic, see a doctor immediately as there is an underlying health issue that needs further treatment.
Don't let chronic neck pain be your "pain in the neck".  See a doctor or physical therapist today and see how they can help your chronic pain become a thing of the past.