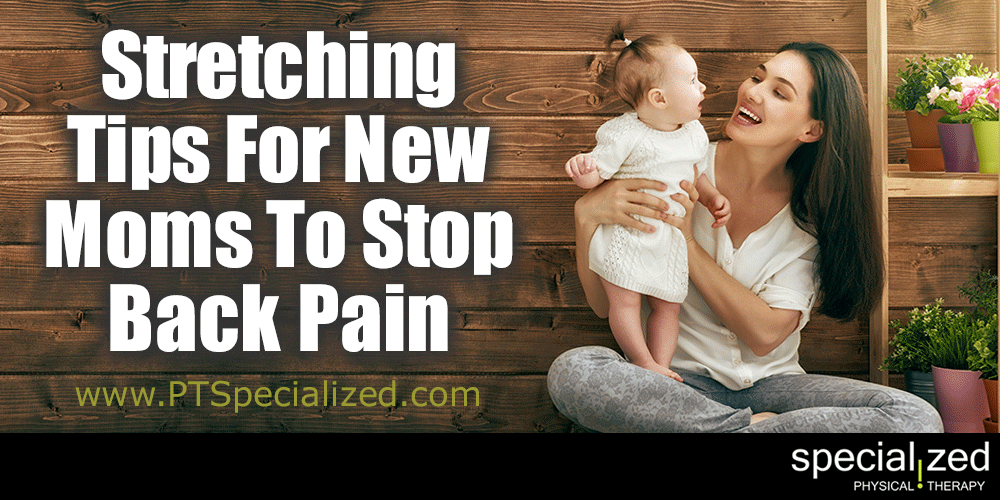 Those 9 long months are over and now you have your little bundle of joy. Pregnancy was tough on your back. Now that your center of gravity has readjusted you'd think that backaches would be a thing of the past. You'd be wrong. Between nursing and lifting, your back is getting quite a big amount of stress. Here are some stretching tips for how to stop back pain as a new mom.
Talk to your obstetrician
The most important thing you need to do is to talk to your obstetrician about when it is safe to start exercising again. This is especially true if you had a c-section. With a section, your doctor probably limited you to lifting no more than 10 pounds for a few weeks and you won't be able to do any exercise until the staples or stitches come out.
So, here are some stretching tips that you can do:
Hip rolls will help you open up your lower back. Lie on your back, knees bent, feet shoulder length apart and arms along your sides. Press your lower back and heels into the floor and tilt your pelvis up, slowly raising your hips off the floor until they are as high as you can lift them. Then bring your knees together and turn your toes inward. Then roll everything back down to the floor one vertebra at the time while your knees are still pressed together. Repeat 5 to 8 times.
Yoga
Yoga might be a bit much yet, but a downward facing dog move will definitely lengthen and strengthen your back. To do one get down on the floor on all fours, wrists lined up with your shoulders, knees lined up with your hips. Slowly straighten your legs and lift your hips until your body forms a V-shape, relaxing your shoulders so they don't tense up to your ears. Hold for 10 to 20 seconds. Release into child's pose. To do that, sit back on your heels, knees apart, and bend forward touching your forehead to your knees or the floor, with your arms extended in front of you.
Want more? Call a physical therapist! They can help you with an exercise and stretching program to get you back in shape safely.
If you are in the Denver area we would love to help with the back pain many new moms experience! Give us a call today… (720) 493-1181