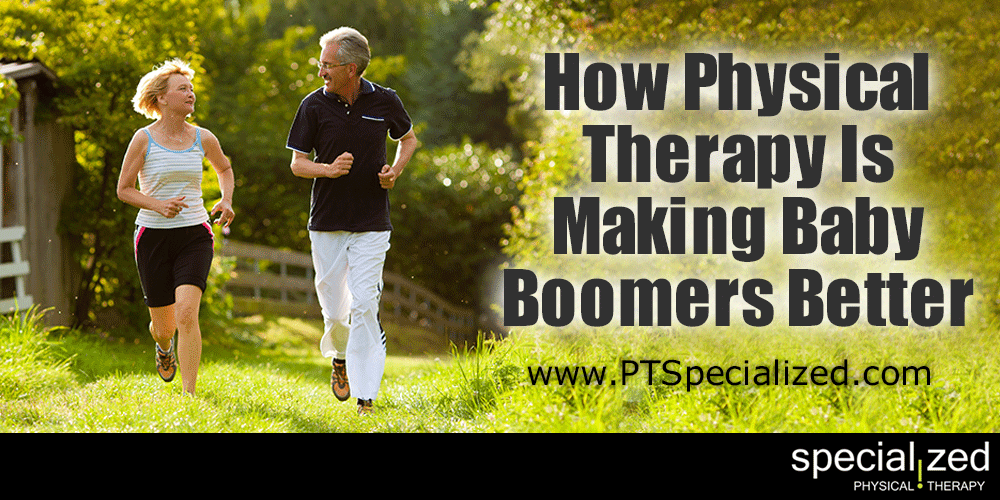 Baby boomers and physical therapy, a winning combination. Boomers are using physical therapy to make their lives healthier and better. Here's why.
Did you know that 7 out of 10 people over the age of 50 are considered physically active? That's great because it helps them stay healthy. There are some great studies out there showing how staying active can help increase quality of life.
This one from CBSNews which studied 3,454, 64 year olds living in a community over 6 years found "…for the first time, that participants who remained physically active through followup were most likely to age successfully,"
The problem comes in when a 60 year old tries to be as active as a 20 year old and invariably hurts themselves. Sprains, strains, broken bones, tears in muscles and ligaments all can be healed and better yet prevented when a Boomer knows how to safely work out.
That's where physical therapy comes in. Not only does it help heal those injuries, but a good physical therapist will take the extra step and help the Boomer find a safe and effective workout routine. Healthy and not injured. That's a win win for sure!
Baby boomers as a group are much better educated about fitness and maintaining a healthy lifestyle than older generations. That means that they may seek out physical therapy before an injury to get set up on a fitness program. They know that getting an assessment of overall fitness will help determine their fitness needs.
As we age, our faculties tend to deteriorate a bit. Baby boomers aren't excluded from this. Visiting with a physical therapist to get an assessment on gait, vision, motor function, cognition, and other things can help them be responsible as drivers. Physical therapy can help with some of those things, such as gait and motor function.

Find out more about our balance screening services today!