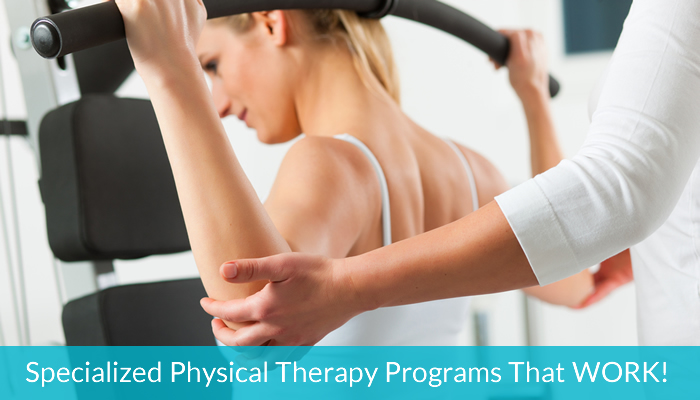 MANUAL PHYSICAL THERAPY
We know that there is nothing more healing than manual hands-on physical therapy to help with pain. Our physical therapists are caring, kind and educated as to how to best us hands-on techniques to help our patients heal. Find out more about our hands-on physical therapy services
SPECIFIC EXERCISE THERAPY
No two bodies are exactly alike, just like no two types of pain are just the same. With this in mind we are dedicated to designing an exercise program that will match you and your body. Find out more about our custom designed exercise plans
TRIGGER POINT DRY NEEDLING
Trigger Point Dry Needling involves using small dry needles at a trigger point to help loosen muscles, alleviate muscle banding and pain and increase blood flow. Learn more about the benefits of Trigger Point Dry Needling
MASSAGE THERAPY
Our Massage Therapists work closely with your Physical Therapist on every aspect of your Customized Treatment Plan in an effort to expedite recovery and aid in reducing your pain. Learn more about the use of Massage in Physical Therapy
PILATES
Pilates-based exercise focuses on weak and dysfunctional muscles to improve, stabilization and increase flexibility in the spine, shoulders, hips and knees. Find out how the specialists at Specialized Physical Therapy use Pilates to help strengthen and stabilize core muscles and increase alignment
ORTHOTICS
Proper bio-mechanical alignment and function is critically important in relieving and preventing pain in the lower back, hip and knee as well as alleviating shin splints, heel pain, plantar fasciitis, Achilles tendon pain, tendonitis, and bunions, to name just a few. Find out how we can help with your foot health
RUNNING EVALUATIONS
Running should not hurt! We can help… Because running is your passion, as well as ours, we would like to offer you a FREE 30 minute running consultation! Allow us to analyze your unique biomechanics, running form and explain how we can help you achieve your goals. Don't run through pain, check out the Specialized Physical Therapy Denver Running Evaluation
BIKE FIT
Bikes come in just one size but cyclists are every shape and size under the sun. If you wan to find out how to get your bike into a proper setup to support your health, check out our Bike Fit service!
BALANCE SCREENS FOR SENIORS
Our Specialized team will design a program incorporating muscle strengthening, gait training, functional activity training and balance training that will keep you safe, strong and on your feet. Senior Balance Screening can help healthy seniors stay that way
INJURY PREVENTION SCREENING
At Specialized Physical Therapy, we are proud to provide our clients with The Functional Movement Screen (FMS). Find out more about how we work with you and your team on Injury Prevention Screening!
YOUNG ATHLETES
Young athletes can be particularly susceptible to injuries that can last well into their adulthood, or even sideline them from participating in sports now. Determining where there are functional limitations and asymmetries now could mean the world of difference to a young athlete's health and success. Find out more about our Young Athlete FMS Program
MOBILITY AND STRENGTH
What we know for sure is that as we age, physical function declines. The reason? Loss of muscle strength. In fact, each decade after 50, we can lose as much as 15% of our muscle strength and as much as 30% per decade after the age of 70. Find out more about our Mobility and Strength services for seniors!
WOMEN'S HEALTH
At Specialized Physical Therapy, we have developed a Specialized Women's Health program that treats the needs of all women and the very personal health issues that are directly affected by musculoskeletal dysfunction. Find out more today!
MEN'S HEALTH
Our Specialized Men's Health program has been created to meet the unique needs of each of our male patients. We are able to help treat a wide range of men's problems … check out our Men's Health Program TODAY!
– – – – – – –
When we opened our clinics, our commitment was to deliver the finest physical therapy treatment available anywhere in the world. That meant hiring therapists who themselves were the most outstanding among those in the industry. Individuals who would be committed to continually researching and learning about and then implementing the latest research, diagnostic protocol, methodology, technique and equipment available in the industry today.
It would be about building a family of dedicated people who believe, as we do, that nothing is more important than our ability to help our patients live their best life. Today, we are proud to have a staff of over 25 therapists, all of whom believe that the science of healing is, in fact, an art.