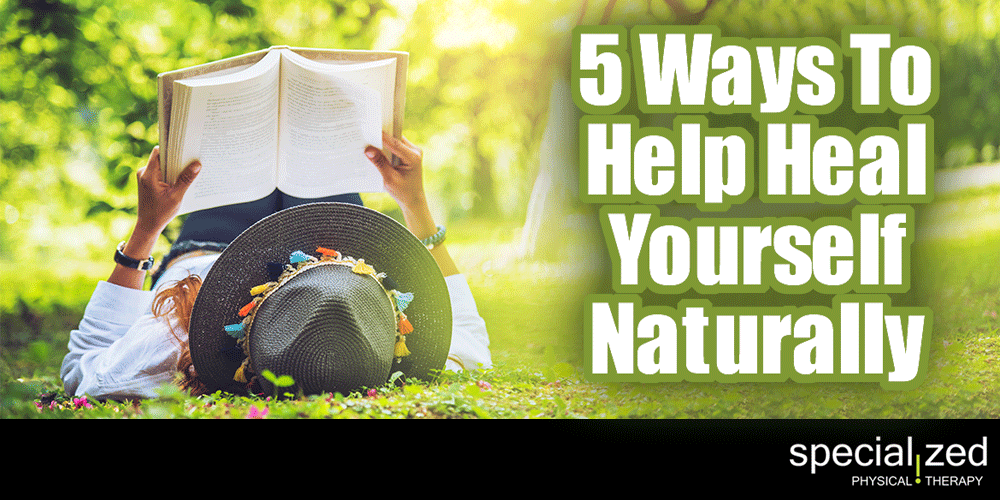 Did you know that there are things that you can do to help your body heal itself? It's true! Even with the best of medical advice and intervention, these 5 things will help that medicine work even better. Oh and by the way, none of these should really be a surprise!
When we are injured or sick, there is a lot we can do on our own to help improve our body's ability to heal. These tips are practical and easy to implement. Studies have shown that these simple changes will have a huge impact on your health!
1. Sleep
The health benefits of sleep are well established, however, we frequently "get by" on very little sleep. The National Institutes of Health recommend 9-10 hours a day for teenagers and 7-8 hours a day for adults. Getting the proper amount of sleep will not only help the body to heal but will also allow it to function efficiently. Lack of sleep has been linked to an increased risk of injury. Studies have shown the time taken to reach physical exhaustion by athletes who obtain anything less than eight hours of sleep, and especially less than six hours, drops by 10-30%. Sleep deprivation is also linked to mental and physical health problems. One study found that adults aged 45 years or older who slept less than 6 hours a night were 200% more likely to suffer a heart attack or stroke in their lifetime.
2. Drink More Water
When your body does not get enough water, it enters a state of dehydration which can lead to slower healing and increased fatigue. Water plays a large role in delivering nutrients and oxygen to cells in the body as well as providing protection for the body's organs and tissues. It eliminates waste, improves immunity and increases lubrication around our joints. There are many conflicting sources regarding how much water you should drink. A simple formula is to drink ½ your weight in ounces. For example, a 150-pound person should drink 75 ounces of water. You should increase this amount if you are exercising or in the heat for prolonged periods. Keep a water bottle next to you at home or at work so you always have it available.
3. Eat Nutrient Dense Foods
The definition of nutrient density is the nutritional quality of the food divided by its caloric density. High nutrient dense foods are rich in micronutrients such as vitamins and minerals, and macronutrients like proteins, carbohydrates, and fats. Foods that have the highest nutrient density include leafy greens such as kale and spinach and vegetables including broccoli, peas, beets, onions, and peppers. The foods with the lowest nutrient density include fried foods and deserts. A few simple ways to ensure you are eating the right foods include eating foods that represent the colors of the rainbow, eat foods closest to their natural state, and always keep a good assortment of fresh foods in the house.
4. Be Positive
This is often easier said than done, especially when you are in pain. When you shift your thoughts to the more positive aspects of your life, you can actually change the way your body responds to pain. Positive thinking can be defined as focusing on what is good about yourself, other people, and the world around you. Some ways to improve your positive thinking include choosing words with a more positive connotation as this starts to change the way you think about your situation, exercise regularly, surround yourself with positive people, and seek out positive experiences and laughter. Studies have shown that moods are contagious so surrounding yourself with positivity will help you to feel better. Often, the only thing we can change is our attitude towards a situation. Thinking positively can make you well.
5. Exercise Routinely
Regular exercise is essential to both your mental and physical health. Exercise improves your energy by delivering oxygen and nutrients to your tissues and improves your ability to sleep. It also helps to improve your overall mood by stimulating various chemicals in the brain that help you to feel more relaxed and happier. When starting an exercise routine, it is important to start slowly. Your physical therapist is a great resource for helping you to outline an appropriate exercise routine.
Be smart, sleep enough, stay hydrated, eat well, be positive and exercise and not only will you feel better sooner, but you may just keep sickness ay bay!