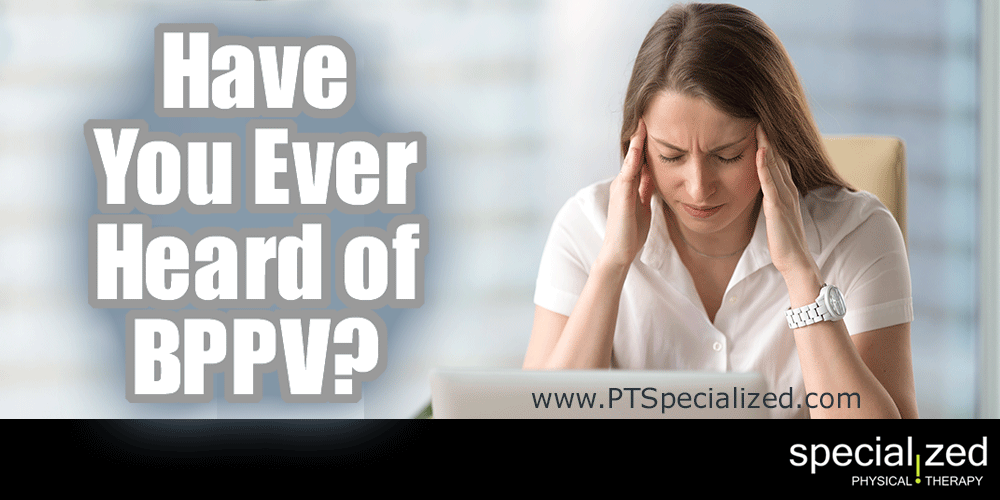 BPPV stands or Benign Paroxysmal Positional Vertigo. Most people have heard of the vertigo part. That's when you suddenly feel dizzy or that the room is spinning when you get up from lying down or go up high on a ladder. It can happen for varied reasons, one being a head injury.
BPPV is a very treatable cause of vertigo.
Have you ever tried to get up or lie down in your bed and the room started to spin? Have you ever bent forward to grab your laundry out of the dryer and upon straightening up you felt lightheaded and thought you might vomit? You might be suffering from a condition called BPPV.
What is BPPV?
The spinning of the room (vertigo), lightheadedness, and nauseous symptoms caused by quick rotational movements of your head is called BPPV. Benign Paroxysmal Positional Vertigo (BPPV) is the most common and the most treatable cause of vertigo. BPPV often occurs for no known reason, but may be related to head trauma, infection, impaired circulation or even dehydration.
Your inner ear is made up of multiple tiny organs (when put together is no larger than the size of a dime), which make up your Vestibular System. Your Vestibular system, your feet, and your eyes work together to allow you to stand upright.
If you are suffering from BPPV, the very small crystals that float in these tiny organs get stuck in an area that causes a disturbance to your vestibular system. Until those crystals are dislodged and are able to naturally dissolve, you may experience vertigo every time you rotate your head or tilt your head backwards, making it hard to stand up.
Symptoms of BPPV include:
1. A sensation that you are spinning or swaying, also known as vertigo.
2. Rapid eye movement in both eyes known as nystagmus.
3. Lightheadedness
4. Nausea and/or vomiting
These symptoms typically last for a few seconds up to a full minute and can occur any time the head is rotated or extended backwards in a quick movement
Why you should see a Physical Therapist?
There are medications (that act as sedatives) that can be prescribed by your MD that help reduce the amount of dizzyness, however they WILL NOT eliminate your symptoms. A Physical Therapist can not only help diagnose BPPV and other forms of vertigo with specific testing, but we can help treat them as well. Often, within just a few visits, we can clear up your symptoms and teach you ways to test and treat yourself at home.
Seeing a doctor for medication is only a quick fix.
Physical therapy can treat your symptoms, not just cover them up or minimize them. Don't let BPPV get in the way of living your life. Let Specialized Physical Therapy help you get well and stay well.
Call one of our locations for an evaluation today.