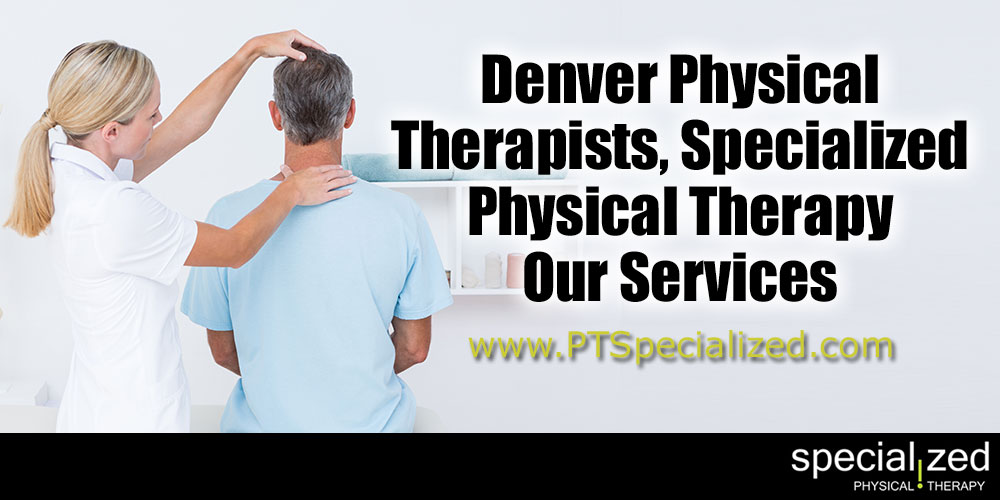 Denver physical therapists team, Specialized Physical Therapy, has a plethora of services available for all types and ages of patients. Not sure if you need them? Well, here is a small sampling of some of our services.
Hands On Therapy
Hands on therapy in the form of Manual Therapy, Graston Therapy and Massage Therapy. These types of therapy are all hands on therapies that work on your muscles, ligaments and such that may need work due to injury or illness or chronic condition. They all use the same basic underlying ideas of massage to improve circulation, flexibility and relieve pain.
Trigger Point Dry Needling
Other therapies such as Trigger Point Dry Needling are also available. Trigger Point Dry Needling helps with muscular tension and spasm caused by arthritis, nerve irritation, muscular strain, ligament strains and herniated discs. It also helps aid circulation and encourages healing of damaged tissues.
Specific Exercise Therapy and Pilates
Specific Exercise Therapy and Pilates are offered as a way to strengthen muscles. Pilates helps strengthen your core muscles, very important for most injuries, but especially for back injuries. A strong core will help you keep your spine aligned and supported.
Other Services
Other services such as orthotics for foot and ankle issues, balance screens and injury prevention screens for seniors are all important services to the community by keeping our seniors mobile and active.
Want more information? Stop on in and see us at one  of our four locations! We can show you how we can help you whatever your ailment, injury or need!