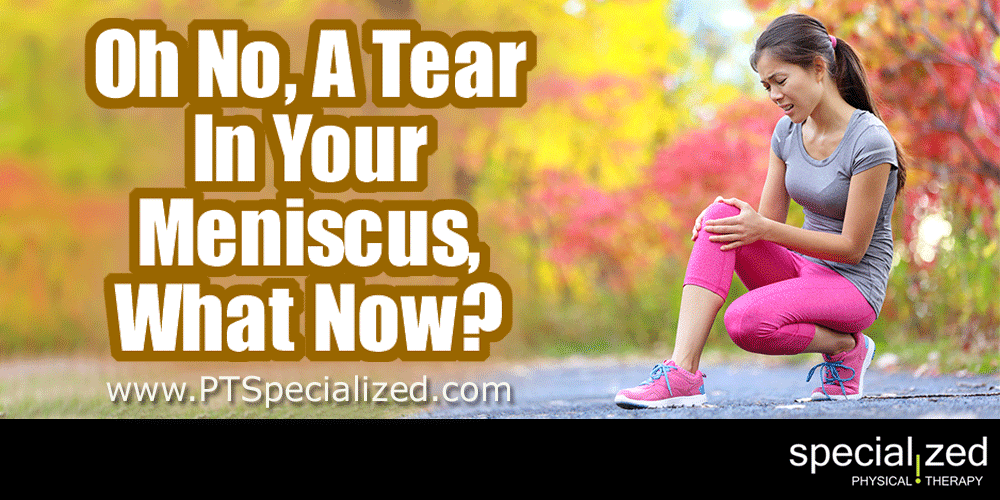 It happened. You reached just a bit too much in the game and now you have a tear in your meniscus. Your doctor is talking surgery. You want to know what your options might be. Here is some information you may need.
Anatomy
The menisci are crescent-shaped structures positioned between the femur (thigh bone) and the tibia (shin bone).
The knee contains both a medial (inner) and lateral (outer) meniscus, together which protect the joint space from excessive compression and shear forces. The menisci receive poor blood, except for the outer one-third of the incomplete ring, which precludes healing of damaged tissue of the inner layers deep within the knee.
The menisci also have attachments to various supporting ligaments which may result in damage to multiple structures when the knee is subject to trauma.
Mechanism of Injury
Meniscus tears can occur as a result of trauma or degeneration. Traumatic tears typically occur in a younger population as a result of external forces exceeding tissue tolerance. Such mechanisms may include rotational forces with a bent knee, as would be common during athletic participation; however, meniscus tears can also occur during activities of daily living such as squatting.
When a traumatic inner meniscus tear occurs in concert with a sprain of the anterior cruciate ligament (ACL) and medial collateral ligament (MCL), the collective pathology is termed the "unhappy triad". Degenerative meniscus tears, on the other hand, occur as a result of abnormal biomechanical loading over an extended period of time.
Risk factors for degenerative tears include advancing age, abnormal lower extremity alignment, high body mass index, and sedentary lifestyle.
Meniscus Treatment
Traumatic meniscus tears are generally treated with surgical repair, especially in young, active individuals who wish to return to competitive athletic participation.
Long-term outcomes following repair are poor for older individuals; therefore, many undergo arthroscopic debridement (ie. partial meniscectomy) which includes surgical removal of pathologic tissue through a small portal site with a much more accelerated rehabilitation program.
While meniscal debridement is a popular treatment for meniscal tears, there is a strong correlation between this procedure and early onset of symptomatic osteoarthritis within the knee joint.
As such, surgical repair is preferred to debridement when appropriate. Conservative (non-operative) management includes injection therapy and physical therapy.
Injection therapy, with use of anti-inflammatory medication can help with pain control in the initial stages of healing. Physical therapy may include education on joint protection and activity modification, range of motion (ROM) activities, mobilization of the muscles surrounding the knee, joint mobilization, swelling control, knee and hip strengthening, as well as balance training and progressive training to return to sport.
Physical therapy has been shown to be as effective as surgery in both short and long-term outcomes.
Call Specialized Physical Therapy
So now that you know the options, go back and talk to your doctor again. Share it with him and then if physical therapy is an option give us a call (720) 493-1181 or visit one of our four Denver area physical therapy locations!