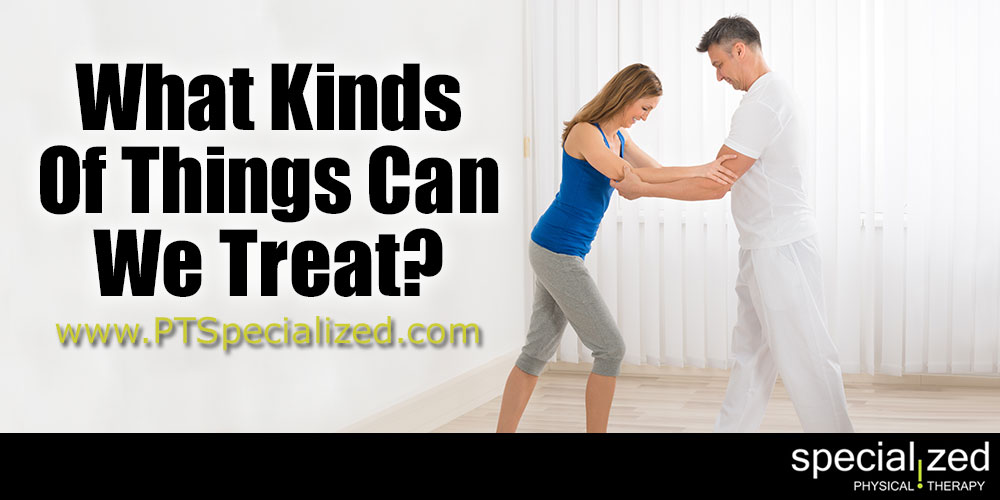 You've been dealing with a painful physical condition but you don't know where to turn. A friend suggested Specialized Physical Therapy to you but you aren't sure they treat what ails you. So what do they treat? Well, a lot of things! Many you probably didn't think physical therapy could help. Let's start with your pain.
Is it in your back?
Physical therapy can fix many back and spine issues from your neck to your buttocks. It doesn't matter if it's a pulled muscle or a herniated disc, degenerative disc disease or a bulge problem. Physical therapy can provide relief and healing, as well as knowledge about how to keep the pain from returning. You may even be able to avoid surgery!
Is it in your leg or ankle?
If you sprained your ankle or pulled your achilles tendon, physical therapy can help you heal more completely and more quickly. Knee pain? Yup, that's highly treatable as well. Hip problems? Definitely an issue that can be fixed as well. The only thing they can't treat is the pain in the neck in the next cubicle! Arms, shoulder, elbow pain? Yes, that too!
What about "brain" issues? Concussions?
Definitely and actually it's a good idea to get physical therapy treatment with a concussion diagnosis. Suffer from migraines? Migraines are a complicated medical issue and need to have a treatment plan that includes how to teach yourself to relax muscles to deal with the migraine.
Chronic pain
Chronic pain issues and chronic issues like arthritis are also helped a lot with physical therapy. While it can't heal the issue, it will help with relaxation, teaching you ways to stay active to keep pain away or minimize it.
Don't suffer in silence. Seek treatment. Contact Specialized Physical Therapy or call (720) 493-1181 today!