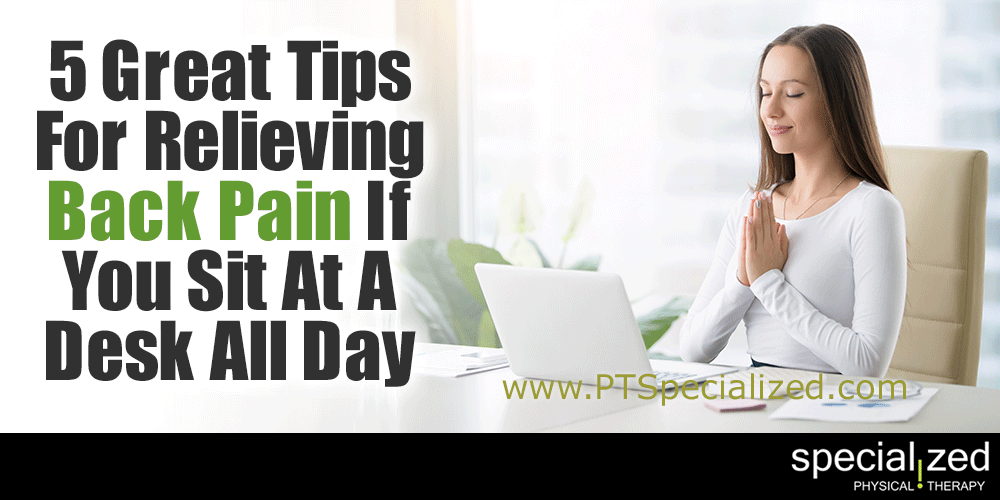 Most people think that a job involving sitting all day wouldn't make your back hurt, but it certainly can and does do just that.  Sitting and being sedentary is detrimental to your health, including back pain.  There are things that you can do to relieve that pain. Here are some tips.
First, the easiest thing to do is to get up and move
1. Get up and walk around. Getting up does a few things, like change your posture and increasing blood flow.  A simple stroll around the office a few minutes each hour or so will help.  Need a nudge?
2. Get a wearable like a Fitbit.  They will have reminders each hour for you to get up and move.
3. When you're up do some simple stretches.  Do things like stretching your back and sides.  Stretch your legs and calves.  Basically move all the muscles that get stiff and unused while sitting.
4. How are you sitting. While sitting at your desk take stock of how you usually sit.  Do you sit up straight with your arms at a 90 degree angle?  Or do you slouch, round your shoulders or slump back in your chair?  Sitting with good posture is very important when you have back pain, or for preventing it all together.
5. Take stock of what you sit on as well.  Does your chair have enough support for the natural curve of your spine?  Can you adjust it to fix any issues?  If so, tilt the seat to angle just slightly downward and add lumbar support.
If these don't help enough then see a physical therapy company like Specialized Physical Therapy for some help with your back and more tips to make your sitting job less of a problem for your back.