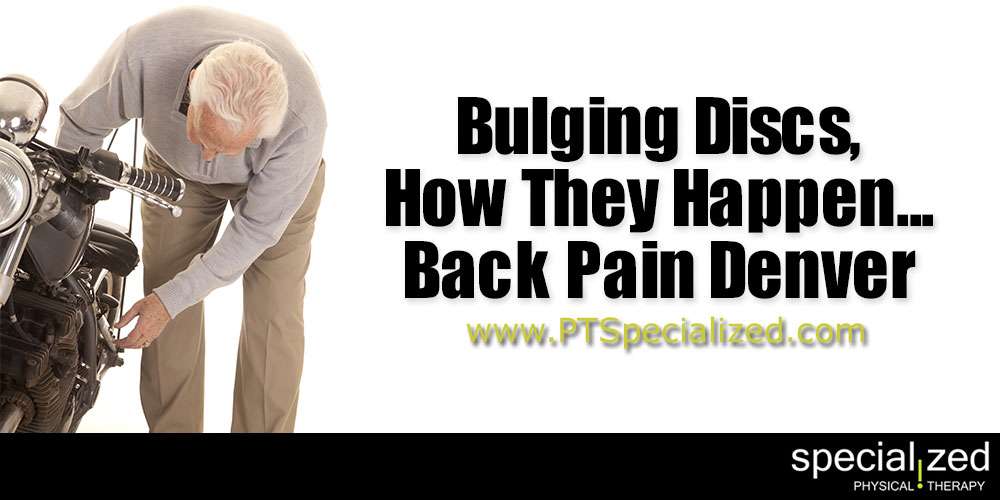 Back pain has many different causes, and a bulging disc is one of them. So how do bulging discs happen?
The cushions that separate the vertebrae
The spinal discs in your back are the cushions that separate the vertebrae or bones of the spine. These cushions keep the bones from pinching the nerves in your spine. When a disc is damaged they herniate or push out. That puts them against the spinal cord and spinal nerves, causing pain.
A bulge means the disc pushes out slightly
When a bulge happens it means that the disc pushes out slightly but has no significant herniation.
A bulging disc isn't always a pain causing problem. In fact, they are often found on an MRI as an incidental finding. It's only a problem if it causes pain. Finding one, especially if you are younger or active, isn't necessarily something to worry about, without any pain.
So what causes the bulging?
Aging. For most of us it's aging. As we age the cushion between the vertebrae lose water content, making them stiffer, flatter and more easily damaged. Any minor trauma increases pressure on the disc which stretches its outer fibrous ring. After time the ring doesn't return to its original shape. When that cycles is repeated over and over a balloon, or bulging disc, happens. It can start when a person is in their 20's and is very common for those who are in their 30's or 40's.
Repetitive motion. Other causes include working at a job that has repetitive motion like lifting, bending, standing and driving; lifting heavy objects improperly; contact sports; smoking and excessive alcohol consumption; severe trauma, such as a car accident; or heredity.
If your bulging discs are causing pain, physical therapy can help. Don't be afraid to ask for help. Contact us today to schedule a FREE Pain Consultation!