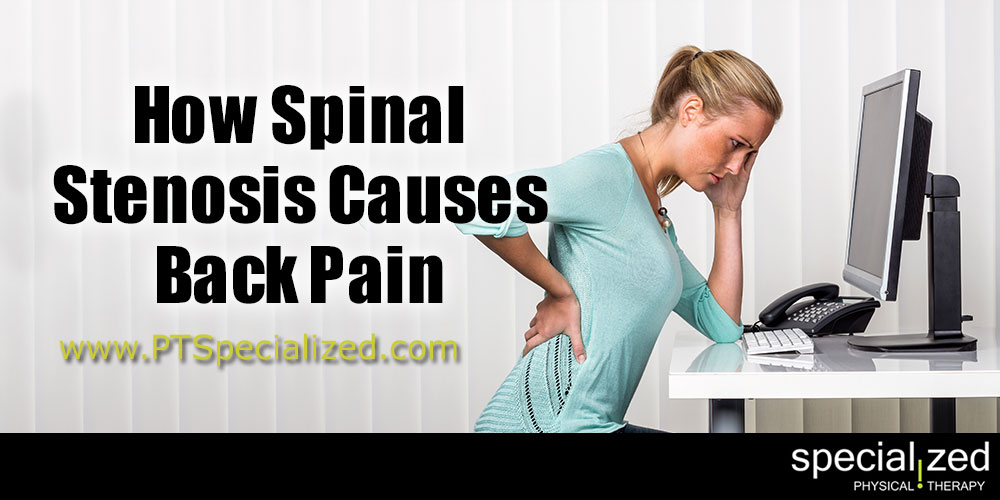 Spinal stenosis is a painful condition that has quite a few causes. Treatment can be as easy as taking anti-inflammatory medication or as difficult as spinal surgery. But what is it and how does it cause pain?
What is spinal stenosis?
Spinal stenosis is a condition where the spaces in the spine narrow which causes pressure on the spinal cord and nerves. The areas that narrow can be either the spinal column which is where the spinal cord and nerves run through, the canals at the base of the nerves as they branch out from the spinal cord, or the openings between the vertebrae which is where the nerves leave the spine and branch out to other parts of the body. Or it can be at all three places.
The pain comes from the pressure on the spinal nerves
They get pinched causing pain and/or numbness in parts of the body where the nerves branch to. If the stenosis happens in the upper back, the numbness can happen in the shoulders and arms, in the lower spine it can be in the legs. It is caused by a few different things. One is age. As we age the ligaments can thicken, bones can develop spurs and the cushioning between the disks can deteriorate. All can lead to stenosis.
Arthritis, osteoarthritis or rheumatoid, can be a cause of stenosis
Another cause can be arthritis, either osteoarthritis or rheumatoid. Trauma can be another cause.
It can be treated. Use of anti-inflammatory medications helps. Physical therapy can also be a huge help and can help avoid surgery. PT can teach the patient better posture which can relieve symptoms, and also targeted exercise to strengthen surrounding musculature which can help support the spine. Manual Physical Therapy is also effective in decreasing pain and encouraging better movement patterns.
You don't need to suffer with spinal stenosis. If you would like to learn more, please schedule a FREE Pain Evaluation TODAY!